Vibratory Tray Feeders
Feed Tray/Tube mounted on tuned angled leaf spring suspension which is oscillated to give a throwing action.

Product appears to 'levitate' as it feeds down the tray.

Designed to feed powders, granules, etc…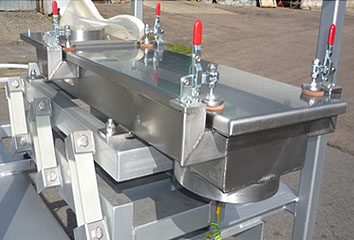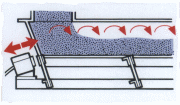 Low amplitude – typically 3 to 5mm of movement
High frequency – typically 50 oscillations per second.
Manufactured to suit feed rate & product from a few kilos per hour to several tonnes per hour.
Gentle action – product not worked or broken down.
Energy efficient – tuned suspension minimising power requirements.
Accurate product control – feed rate easily varied from bulk feed to a fine trickle.
No moving parts in product – hygienic design, all mechanisms mounted outside the product flow.
Easy clean down – Removable lids or detachable tray/tube facility available.
Scalping screen can be added with tailing chute option to eject oversize/lumps from product.
Powered by electromagnetic drive or pneumatic piston motor (for hazardous areas).

Size/length/shape/materials of construction (stainless steel, mild steel, aluminium, etc…) to suit the process requirements.

Finish to suit industry – from food/pharmaceutical to industrial/chemical.

Totally enclosed with or without removable lids or open tray to suit the application.
Single or twin variable speed controls for bulk and trickle feed rates or 4-20mA controller to set/vary speed via plc controls.

Screening Feeder version complete with mesh to retain or remove via tailing chute any oversize or tramp – cost effective alternative to propriety sieve.

Sampling Feeder to take samples from process flow of product in a contained dust tight fashion.

Optional Isolation Valve on outlet.
Specials

Design of bespoke Vibratory Feeders including cooling conveyors, removal of fines, inclined feeding, loss in weight feeding, adjustable bed depth tube to set the depth of product on the tray, purged tray for hazardous or conditioned atmosphere, etc…