FIBC/Big Bag Discharging
Inflatable Clamp Seal ensuring dust tight connection of outlet trunk with inflate/deflate switch on pneumatic control panel, before untying outlet trunk.

Loading by Fork Lift Truck or overhead hoist.

Simple gravity discharge or automatic agitated tensioning arrangement for poor flow products.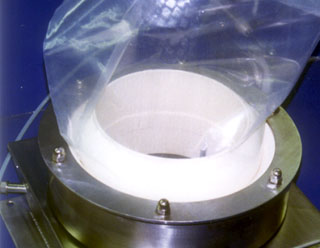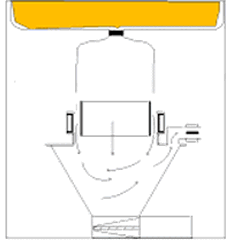 Reliable dust tight connection for high containment.
Soft/pliable seal – inflates outwards to ensure no wrinkles for dust to escape from
Safe operation as low pressure eliminating any hazard
Minimum air consumption giving energy efficient operation
Quick release seal option for rapid removal for easy cleaning/ replacement
Agitated discharge for poor flow products
Size/materials of construction (stainless steel, mild steel, aluminium, etc…) to suit the process requirements.

Finish to suit industry – from food/pharmaceutical to industrial/chemical.

Automatic Extraction option to extract after discharge to ensure high containment is maintained.




Optional Isolation Valve on outlet or control feed device to meter product flow into process.

Weighing option either as display only or semi automatic discharge by weight.

Sensor can be used to confirm seal is correctly inflated.

Optional mobile FIBC Discharge Framework c/w outlet valve to allow FIBC to be pre-prepared & untied at ground level then moved into position on Discharge Station as required.
Specials

Nitrogen purging arrangement, extracted containment booth around outlet trunk, integral hoist, product formulation stations, etc...