Varicone FIBC Discharger
Varicone is a new FIBC Discharge Station approach, which not only monitors the discharge process, but uses a new earthquake technique to discharge even difficult powders and prevents further compaction of the material. Varicone is a patent applied solution as is the earthquake unit, which can be applied to many process applications in a variety of industries.

Loading can be by Fork Lift Truck or Hoist. Programmable controlled gravity /agitated discharge is standard. Tying off part full bags at any time c/w inflatable seal to ensure the process is dust tight.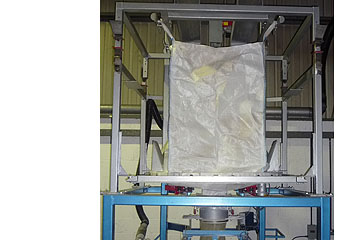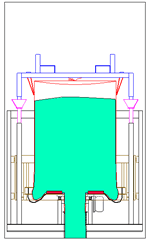 Varicone is designed for All Powders, including very difficult ones
Overcomes Compaction above the Outlet Tube
Ensures Full and Controlled Dust Tight Discharge
Includes FIBC Outlet, Bag Sealing Mechanism
Allows the Tying Off of a Part Full FIBC at any time
Fixed, Mobile and other Versions Available
Size and materials of construction (stainless steel, mild steel, aluminium etc) to suit the process requirements

Finish to suit food / pharmaceutical to industrial / chemical.

Automatic Extraction option to extract after discharge to ensure security is maintained.


Optional Isolation Valve on outlet or control feed device, to meter product flow into process.

Weighing option either as display only, or semi-automatic discharge by weight.

Sensor can also be used to confirm the inflatable seal is correctly inflated, etc.


Other Varicone Versions:

Mobile FIBC Discharge Unit c/w outlet valve to allow FIBC to be pre-prepared
Fixed Site Surge Hopper, with flat bottom contains more product than conventional cone hoppers
Fixed Site Hopper (Varicone Module) is a tiny version of the fixed site hopper for Pack Off Stations
Varicone Formulation. We already have years of Linkbin IBC Formulation systems experience